Come home to the country,
Come visit us at Pierson's Farm
A country experience
for the whole family
Pierson's Bicentennial Natural beef Farm, the home of naturally raised beef in New York, is now also the home of pastured chickens and has fun activities for each season to fit the whole family's activity tastebuds. We would like to invite you to come visit the countryside, come visit us at Pierson's farm.
Order your grass fed beef, pastured chicken meat or pastured chicken eggs now, or keep a look out for our seasonal events to see what exciting things are happening through the year.
Dedicated to
COUNTRY GOODNESS
About 
Pierson's

 Natural Beef Farm
"Pierson Bicentennial Farm" was settled in 1790 by Josiah Pierson, my great -great -great -great- grandfather. My name is Orrin Pierson, I am part of the seventh generation on this farm, and this is a piece of our story.
Our homestead was recognized as a bicentennial farm by the New York State Ag. Society in 2001, and is one of the oldest farms in Orange County. My wife Jackie and I, together with our eighth generation children, Lorna, Rachel, Carolyn, and Rita, live and work solely on the farm. The farm originally consisted of around 1000 acres, but due to sell-offs by each generation, we are now approximately 300 acres. All of my ancestors were dairy farmers until the late 1970s, when my father, Stephen, sold the dairy. He then bought two-hundred sheep and started to raise them for their wool and meat. Unexpectedly, in 1995, my father passed away from cancer. He left me with three hundred sheep and thirty head of natural beef cattle. I gradually sold the sheep and kept the cattle. Today, along with raising natural beef, we raise pork and chickens, sell flowers from our greenhouses, have a pick-your-own pumpkin harvest in October, manage a haunt event, and sell fresh cut and cut your own Christmas trees in December. My wife has a gift shop in the old wagon house that has been refurbished. We have it opened seasonally and/or by appointment year round. During off seasons, we shut down to regroup and take care of this big beautiful farm and our home life.
Try our New York natural beef, you won't be disappointed. Orrin Pierson
The store is open seasonally and by appointment to get yourself some of the beautifully, naturally raised angus beef, pork or some of our wonderful chicken broilers. We currently do not offer halves.
Natural Grassfed Angus Beef
There is a required deposit of $100.00 per quarter required on each order.
If you would like a quarter, $5.25 / pound hanging weight on 1/4's plus processings costs. Our spring 2016 quarters averaged take home weight of 76-80 lbs and cost about $700.
We also sell the meat direct from our farm store by the pound. Hamburger patties are currently priced at $7.65/pound or Ground beef at $6.75/ pound, both are available for purchase at the farm along with many other cuts of beef.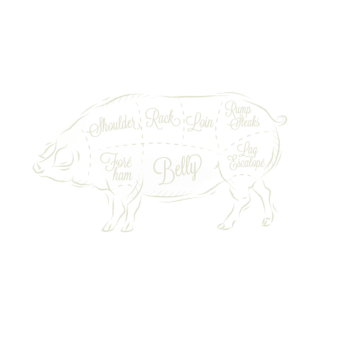 Pork Products
Pork cuts are also available.  Please get onto our e-mail list via our contact form to see what is available.
Examples of cuts on offer dependant on availability:
8 – 4 pack pork chops
4 pork roast
10  lbs bacon  OR
10 nitrate free bacon
4 pork belly
2 1lbs pork ribs
6 1 lb ground pork
5 italian sausage
5 breakfast sausage
5 hot sausage
3 fresh ham steak
2 fresh ham roast
4 shoulder roast  (pulled pork)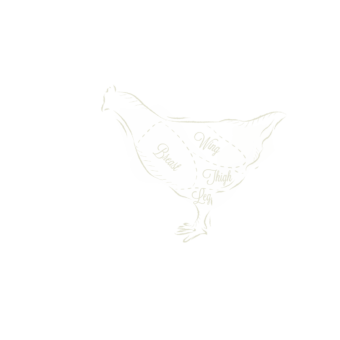 Pastured Chicken meat and eggs
We also offer our grass/conventionally fed chicken roasters frozen, or fresh when available, and free range eggs and cage free eggs year round.
Chicken  cuts are also available.  Please get onto our e-mail list via our  contact form or put yourself on our e-mail to be included in our fresh bird purchase e-mail notification option.
Examples of cuts on offer dependant on availability:
Whole frozen birds
Pair of halved birds
Chicken necks
Chicken livers and hearts
What is the price for a quarter of beef?
The price per quarter is $5.25 per pound dressed or hanging weight plus processing costs. Deposit and pre-approval of order required.
What is hanging weight (or dressed weight)?
Hanging weight is the weight after the animal is slaughtered, without the skin, internal organs, head, or hooves.
There is a required deposit of $100.00 per quarter required on each order.
What is a standard cut?
Currently selling our beef by the pound and the 1/4 at $6.00 per pound hanging weight with a deposit and approved pre-order. Our spring 2016 quarters were around $500, from one of our average size beef cattle.
| | | | |
| --- | --- | --- | --- |
| | 2 | | London Broil steaks |
| | 2 pkg of 2 | | Porterhouse steaks (4 total) |
| | 5 pkg of 2 | | Rib Eye steaks (10 total) |
| | 2 pkg of 2 | | T-bone steaks (4 total) |
| | 2 | | Sirloin steaks |
| | 1 pkg | | Short Ribs |
| | 3 pkg | | Beef Cubes |
| | 1 | | Chuck steak |
| | 1 | | Bottom Round Roast |
| | 1 | | Top Round Roast |
| | 1 | | Sir Tip Roast |
| | 1 | | Eye Round Roast |
| | 2 | | Shin/soup meat with bone |
| | 4 | | Count 1 pound/kg Chip beef, a wonderful thin sliced steak |
| | 38 count 1 lb pkg | | Hamburger |
| | 2 | | Liver (optional) |
| | Approx 75 lbs | | Freezer Meat |
The angus dressed out to about 75 lbs of beef per quarter. The angus beef cattle were on the young, more tender and leaner side.
About half of the beef was very nice lean chop meat, the other half is Rib steaks, top round roasts, sirloin steaks, t-bone, porterhouse, london broil, eye round.
Our quarters could be more costly when beef is larger then this example we have listed.
Do you deliver?
No, sorry. We are currently unable to provide delivery service at this time.
Enquire/order now
Benefits of our
natural beef products
Our Farm Raised natural beef benefits are surprising to most consumers. People don't realize how different the nutritional value of the exact same product can be depending on how it was actually produced.
Beef from pastured cattle is up to four times higher in Vitamin E than beef from feedlot cattle.

Beef cattle raised primarily on pasture will have three to five times more CLA (Conjugated Linoleic Acid) than beef fed primarily grain.

Can Significantly reduce your risk of E. coli: Beef raised on a diet of all or primarily grain have dramatically higher risks of E. coli contamination

Increase your Omega-3 fatty acid intake: Pastured natural beef has two to four times more Omega-3 than feedlot/grocery store beef.

Eat New York natural beef with a more balanced ratio of Omega-3 fats to Omega-6 fats

The natural diet of cattle is green grass that is naturally high in Omega-3 fats because it is formed in their green leaves, as well as Vitamin E. When cattle are placed on a high grain diet they lose their source of Omega-3's and thus their ability to store Omega-3's. They also lose their source of Vitamin E. Omega-3 fat or "fatty acid" is one of the "good fats" that is essential for normal growth and development and plays a role in the prevention of heart disease, cancer, and arthritis, to name a few. An important fact is that Omega-3 fats MUST come from your diet because your body cannot make them. We have moved away from corn feeding on our hayrides to better tune the cattle diets on our farm. 
Beef from grassfed ruminants is also one of the best known sources of Conjugated Linoleic Acid (CLA), and may contain up to five times the amount of CLA as meat from primarily grain-fed cattle. CLA is proving to be one of the best defenses in preventing cancer.
Farm Products

& GIFT SHOP
We sell fresh, seasonal natural produce from our family farm as well as local honey, syrup, jams, primitive decor, produce, Cream line milk local), Christmas decor, halloween decor, custom farm candles & more.
See our FarmFresh Products for more information on our meat/egg products from the farm.
Credit to John Cuppi/youtube.com for this drone video he took on the farm.

In celebration of their marriage this past summer – Lorna and Billy, Orrin made our corn Maze Heart centered with their initials.
Click on the images to see the enlarged version.
Farm Activities 
& Seasonal Events
October Festival
Last weekend in September – October
Pumpkin patch

Picking Hayride

4 acre corn maze

3/4 acre mini maze

Petting zoo

Play area.  

Hot Cider and Hot Chocolate along with baked goods.  

Mums

Cornstalks straw

Hay bales

5 evening haunted events

Flashlight night
Contact Details

/ Directions

 / Trading Hours
Directions
Near Otisville in town of Mount Hope. GPS for cars use 320 white bridge road, or 15 Pierson Hill Road, Middletown. We are just around the corner. Google Pierson's Farm on your smart phones. Yahoo locations is incorrect. Use 320 White Bridge Road, we are around the corner. Call 845 386 1882 for help, we can assist.
Seasonal Trading Hours
Spring
(Mid April through July)
Wednesday – Sunday
9:00am – 5:00pm
Pumpkin Picking Octoberfest
(Mid September – Oct 31st.)
Monday – Friday
10:00am – 6:00pm
Saturday – Sunday
10:00am – 6:00pm

Winter Holiday Hours
(From Friday after Thanksgiving through Dec 23rd)
Monday – Thursday
10:00am – 5:00pm
Friday – Sunday
10:00am – 7:00pm
Summer / Beef / Any Season
Hours by appointment